Virtual Office

For the savvy professional who's always on the go and prefers outdoor meetings to the confines of the office, Interactive Voice Solutions Limited has the perfect option by way of our Virtual Office Solution.

The Virtual Office solution provides you with all the features of an Automated Attendant without having one. The solution is perfect for small businesses that want to standardize how their calls are answered and routed; and for the medium to large size businesses with multiple locations yet desire a single telephone number for customer contact.

The Virtual Office proves to be perfect, as it is effective and integrates all your offices under one menu with calls being routed to Landlines, mobiles or VOIP networks.

Whether you are a one-man operation, small business or a remote office of a large corporation, Our Virtual Office can gives your company a powerful image to help you succeed and expand.

The Virtual Office Solution service includes:
Professional corporate greeting with menu choices
Pre-recorded Company information on services etc.
Remote dialing
Hold messages
Voice mail with remote access
Email & SMS notification of messages
Monthly bill
---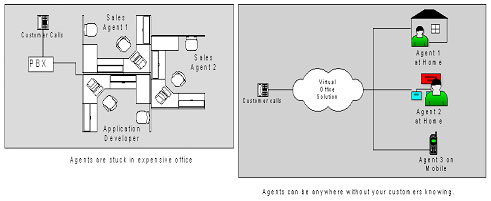 With the top of the line integrated approach, your business will always sound fully professional and leave a winning first impression.  The benefits include:
Office on the go
Remote access to voice mail messages
Integrated professionals and services
Streamlined branch office communications
Smart Routing
Please contact us for further information and to gain access to our real-time demo